2nd Annual Pig Roast
Each June my favorite bike shop holds a pig roast. Cowhide & Chrome (*formerly in Monroe, closed in 2000*) invites customers, friends, neighbors, and bikers to enjoy fresh roasted pig, salads, music, and motorcycle stunts. Sky Valley Chapter ABATE sells home-made desserts to raise money for our local food bank (SonRise Food Bank).
| | |
| --- | --- |
| The Seattle Cossacks are awesome. Each rider owns an old Harley Davidson with a suicide shift (hand-controlled, not foot-controlled), painted to match the other bikes. The riders practice routines almost daily. Their love for their bikes and their dedication to practice sets the background for some truly amazing maneuvers. The Cossacks are gymnasts on wheels. | Four guys on one bike. |
| Two "flowers" | These guys think nothing of piling 3 or 4 riders on a single bike to build a pyramid of flower, while the bike is moving. For variety, they'll hold arms across two bikes, add a few bodies, and create a new stunt. You really must see a live performance: my photos just can't capture the whole event. |
| A single flower | Hanging around after the performance. |
| A pyramid. | The back of the pyramid. |
| Another pyramid. | A closer view of the pyramid. Remember, these are action photos! |
| Bikes visiting the pig roast. | The bikes in a neat row, waiting for the next show. |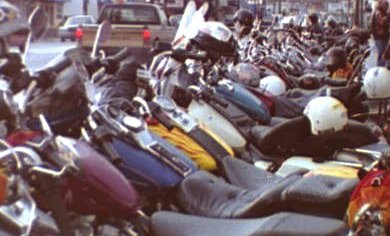 More bikes visiting the pig roast.
---
www.hogbytes1.com/biker/pigcoss.htm-- Revised: 20 JUN 2002.
Copyright © 1996-2002 Beryl Doane